Austin Animation Studio
IMMIX Productions has now opened an Austin Animation Studio, located in Austin, Texas.
If you are looking to have 2D animation, 3D animation, or Flash animation created for your company, please contact us for a free consultation (512.827.9714).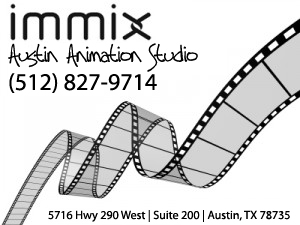 Working with Austin Animation Studio
If your company is located in Austin, Texas and looking for animation services, you have come to the right place. With over 8 years of experience, Austin Animation has successfully created hundreds of 2D, 3D and Flash animations. The exponential growth of our company over the past eight years can be attributed to client satisfaction by word of mouth.
Animation Studio- Austin, TX
We opened an Austin Animation Studio because we love the city and have had countless clients contact us looking for a local presence. Therefore, we decided to add to our animation studio locations in Texas, California, and Nevada with an Austin Animation Studio.
About Austin Animation Studio
Immix Productions began offering animation services more than eight years ago and has since grown rapidly into a full-service media creation company. Serving thousands of clients, Immix Productions has consistently strived to meet client needs with integrity, quality, and reliability.
As a client of Immix Productions, you can be certain that we will deliver high-quality materials, on time and on budget!

Austin Animation Studio Availability
We are available to review your animation needs and requirements with you, in person or over the phone. We offer a free consultation to get you acquainted with our services and how we can satisfy your animation needs.
Austin Animation Studio Example
Austin Animation Studio Address
5716 Hwy 290 West
Suite 200
Austin, TX 78735
(512) 827-9714